2013 Product Catalog
Request a free
copy of our 2013
products catalog.
Go >>
Can't find the product you need?
Give us call at 1.877.367.7659
-OR-
---
Many of our products are not available for online purchase and we also produce a wide variety of custom products.
For help call us directly at 1.877.367.7659
UHMW Wearshoes
Your Auger Upgraded

Steel isn't always second-rate. As long as an auger has the protection of Lundell Plastics' UHMW Wearshoes, it's O.K. by us. Our wearshoes will outlast steel 2 to 1.
Extends The Life Of Any Auger
You can still bring many of the benefits of plastic flighting to your current steel auger. The Ultra High Molecular Weight Polyethylene (UHMWPE) is pre-formed to fit onto new or worn steel auger flighting, thus extending the life of any auger. UHMW Wearshoes are easy to install thanks to their predrilled holes and poly-capped bolts. It's easy to give your worn out auger a hi-tech facelift.
Smooth, Even Flow of Grain
UHMW poly provides a slick surface for grain to flow freely and prevents build-up. Plus the lower friction coefficient of UHMW reduces power consumption. This will reduce strain on drive components and increase your harvesting rate.
The Industry Choice in High-Wear Applications
Combines
Grain Carts
Transport Augers
Corn Heads
Grain Platforms
Feed Wagons

Fertilizer Mixers
Grain Dryers
Bailers
Silage Choppers
and many others!
UHMW Outlasts Competitors
This chart represents results from industry standards sand slurry test.
Lower numbers = higher abrasion resistance.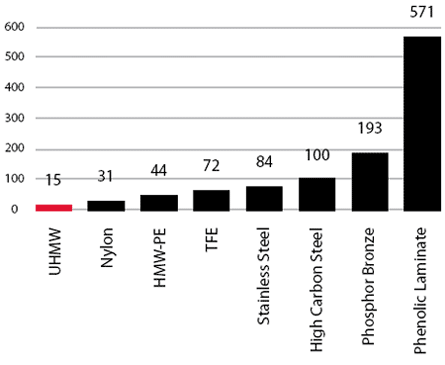 Installation Instructions
UHMW WearShoes Installation Instructions Download PDF »
Custom Orders
With over 500 current sizes available, our wearshoes will extend the life of any auger. If your auger size is not available we can create wearshoes to your specifications at no extra charge.
Please be accurate with your custom ordering information. A 20% re-stocking fee will be charged for returns of stock size. No returns accepted for custom-made orders.
Place your custom orders by calling us toll free at 877.367.7659!