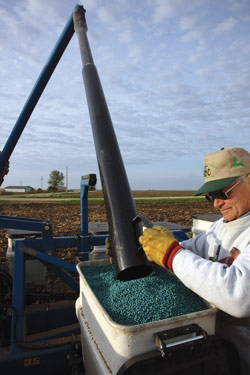 New for 2010 and just in time for planting season, Lundell Plastics is launching new sizes of their popular telescoping tubes. FreeFlo Telescoping Tubes attach to the seed tender's auger or conveyor and allow the producer to more easily and quickly direct the flow of seed into planter boxes. FreeFlo Telescoping Tubes were launched last planting season with 4 sizes available. Now 5 new sizes are available including the new FreeFlo Bulk Fill tubes.
The additions to the lineup this year allow many more producers to enjoy the increased efficiency and comfort of FreeFlo. Models are now available to fit a range of auger diameters, from 6" to 8". The new variety of extension lengths allow more adaptability for different filling applications and telescope up to 19 feet. The new FreeFlo Bulk Fill Tubes are non-telescoping units made for bulk fill applications which don't require extra reach. Any of the FreeFlo tube sizes are able to be controlled by the FreeFlo Wireless Remote, also new for 2010.
The FreeFlo new sizes and remote are just a sample of new products Lundell has introduced for 2010. The company is perhaps best known for pioneering plastic in the auger market, replacing traditional steel flighting with hi-tech poly flighting which is very durable and handles seed more gently. From their headquarters in Odebolt, Iowa they manufacture and ship products internationally.
More information about Lundell Plastics and their products are available at www.lundellplastics.com or by contacting Brian Lundell at 877.367.7659 or brianl@lundellplastics.com.