2013 Product Catalog
Request a free
copy of our 2013
products catalog.
Go >>
Can't find the product you need?
Give us call at 1.877.367.7659
-OR-
---
Many of our products are not available for online purchase and we also produce a wide variety of custom products.
For help call us directly at 1.877.367.7659
Poly Cupped Flighting
The Gentle Giant

The rugged flighting that's gentle to
grain and seed.

What happens when you combine the longevity of Lundell's poly technology with trusted university testing? You get Poly Cupped Flighting, a tough industry giant that handles your crop with care.
Tough to Beat
Go ahead and try. Lundell's Poly Cupped Flighting is tough enough to handle anything you throw its way. That's why top manufacturers have been including it as standard equipment for years. With the hi-tech durability to rival steel, Poly Cupped Flighting has become the choice of the hardest-working machines around.
Protect Your Seed Investment
With sprays and treatments available by the truckload, "yield" seems to be the word of the day. Yet there's one sure way to maximize your yield potential from the start: be sure to deliver intact seed to your field! Poly Cupped Flighting is designed to do just that, deliver more intact seed through gentle seed handling. University testing concludes that Lundell's Poly Cupped Flighting delivers noticeably more intact seed to your field.
98.5% Germination Rate
University testing proves our poly will only decrease germination by 1.5%.  Our closest rival decreases germination by nearly 4 times as much.*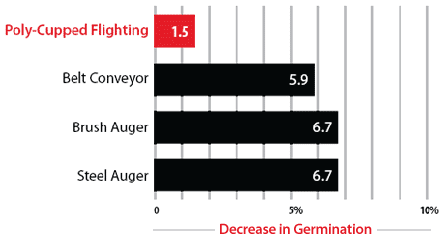 99.62% Intact Seed
University testing proves that with our poly, 99.62% of your seed stays intact. Steel is shown to do five times more damage to your seed.
Soybean Crack Test Results *
Flighting Type
Percent Breakage
Average Breakage
Plastic Cup
0.38%
38
Bristle
0.35%
35
Steel
1.80%
180
Steel Cup
2.10%
210

Average breakage based on per 10,000 beans. Test ran with hydraulic motor at 12 gal/min (6" x 13' uni-swivel auger at a 45° angle). Average moisture content of the bean seed samples was 12%.

* Information used with permission from J & M Manufacturing Co.
The Best Alternative
We challenge you to find a more gentle alternative for handling seed. Once you try our Poly Cupped Flighting, nothing else will do.
Installation Instructions
Folding Auger Kit Installation Instructions Download PDF »
Multi-Section Poly Flighting Assembly Instructions Download PDF »
Poly Cupped Modules Replacement Instructions Download PDF »
Westfield Folding Auger Kit Installation Instructions Download PDF »